Dear Guests,

We are currently working on our site to provide in depth descriptions of of Destinations.

We are able to make online reservations and can take your individual requests through our contact form, so if you have a Holiday Booking Request please fill out the Contact Form below.

Currently we offer the following online facilities :

Flight BookingsHotel BookingsCar RentalTaxi Transfer

We look forward to helping you and do not hesitate to contact us if you need our expert help and advice to facilitate your needs.

Rum Doodle

Ski Holidays | Lakes Holidays | City Breaks | Mountain Holidays
Verona a beautiful and romantic city worthwhile visiting in the north of Italy.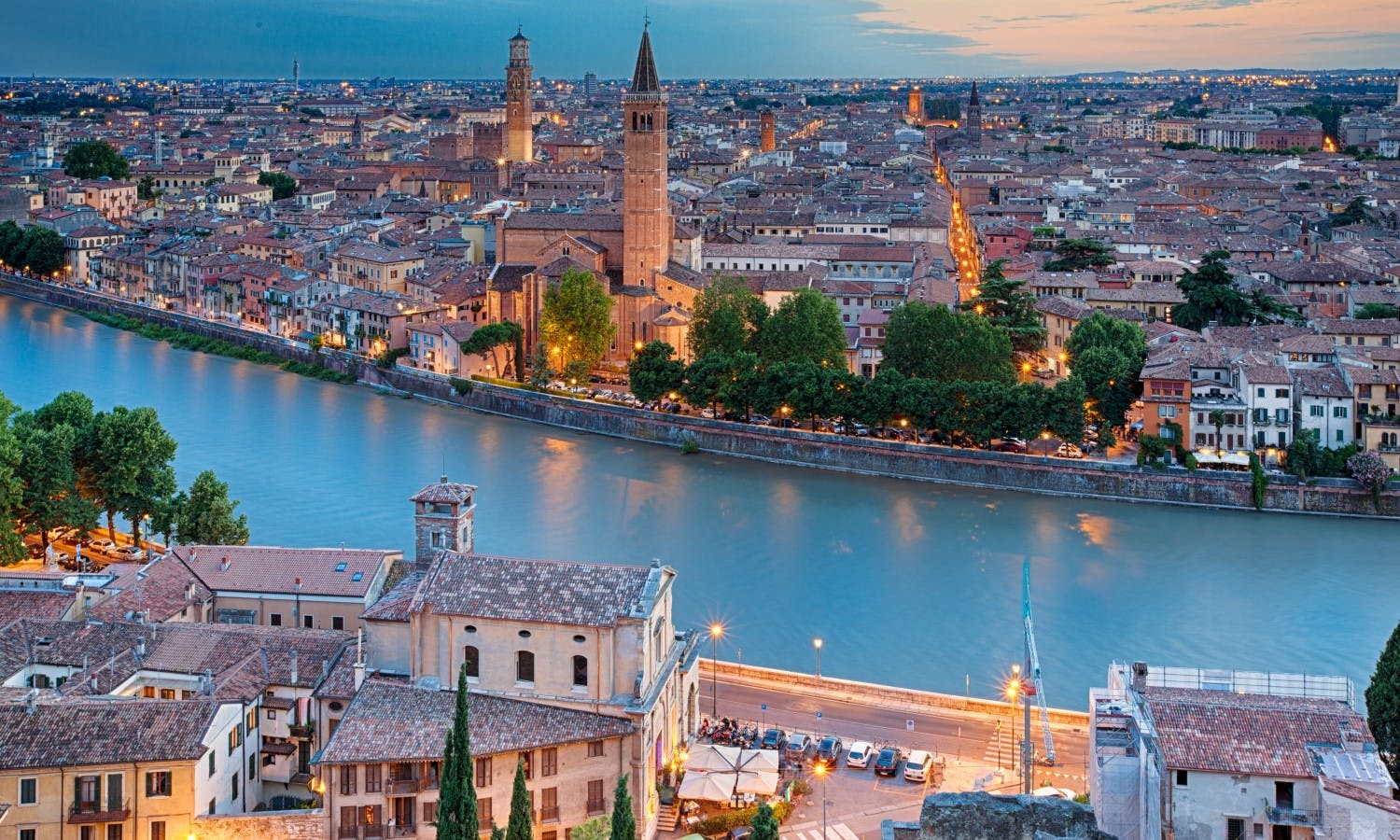 Verona: a UNESCO world heritage city and the home of Romeo and Juliet, a place of history, culture, music, architecture and high society. A land of great traditions, from opera to fine food and wine.
A land of style and refinement, waiting to be explored.
Whether you are more interested in history, art, the famous opera in the Arena or simply prefer a glass of fine wine, in Verona you can find something to suit you. Whether you are travelling alone, as a couple, with your family or with friends, Verona is bursting with activities and places to suit all tastes. Are you ready? The wonders of Verona are waiting for you!
A CITY TRIP TO VERONA
EXPERIENCE THE ITALIAN CITY OF ROMEO & JULIET
Verona is one of the cities in the world that is bursting with romance. Baroque architecture, Roman history and the romance of Romeo and Juliet give this picturesque city a charm that you certainly cannot resist
Verona  is a city in northeast Italy and one of the most beautiful places in the country. With around 260,000 inhabitants, it is the capital of the province of the same name, which is located in the Veneto region. Only about 30 kilometers from the popular Lake Garda , Verona is visited by numerous holidaymakers from all over the world every year. No wonder, because this city has some great sights and other highlights to offer. I have put together useful tips for everyone who has never been to Verona or who really want to visit the charming city in northern Italy.
Travel to Verona cheaply
If you travel from Austria to Verona, the quickest way to reach the romantic city is by car or plane. In my flight search you can find cheap flights to Verona.
Excursion from Venice:Are you in Venice ? Then make a little detour to Verona. The cities are only about 100 km apart, and a train runs between them.
From the airport you can then take the Aerobus towards the city center. There is also no shortage of taxis and rental car stands in Verona, but to get a real bargain when looking for a rental car, it is worth booking a car online before departure.
If you live in the south or west of Austria, you can also reach Verona quickly and easily with your own car, so that you have many options for traveling cheaply to Verona. Are you still looking for a cheap hotel in the Italian city? Take a look at my hotel search, you are guaranteed to find it here.
Verona Card
Since you want to see most of the sights in Verona from the inside and learn more about them, I recommend that you get a Verona Card beforehand . Thanks to this card, you not only receive numerous discounts, but often also free entry to several sights.
Public transport:
With the Verona Card you not only get discounts on admission prices, you can also use public transport for free.
There are two different options: the Verona Card for € 18, which is valid for 24 hours, and the Verona Card for € 22, which is valid for a full 48 hours.
You can buy the card at the respective sights, such as monuments, churches or museums as well as in some hotels and tobacco shops in the city. Sights that can be visited with the card include the Anfiteatro Arena , Museo Lapidario Maffeiano, Museo di Castelvecchio, Complesso del Duomo and the  Casa di Giulietta .
You can get discounted entry to the Museo Africano and the Arena Museo Opera, for example. You can also use the ATV public transport system for free.
Discover the highlights of Verona on foot
Those of you who have already been to Verona will probably have noticed early on that you can discover this city very comfortably on foot. It invites you to take a leisurely stroll along the most important sights and impresses with its historic buildings, beautiful squares and imposing churches and museums. On my map you can orientate yourself on your city walk so that you don't miss any of the Verona highlights .
The symbol of the city: the Verona Arena
Verona has something to offer for every taste: from exciting history to art and religion. Starting at the famous main square Piazza Brà, which is also known as Verona's reception hall, you will first see the  imposing Arena of Verona , the city's landmark.
Arena di Verona Opera Festival 2018 :
The popular classical music festival will take place this year from June 22nd to September 1st, 2018. Famous pieces such as Carmen, Aida and Nabucco are performed during this time. The cards are available from € 25.
The Verona Arena is a well-preserved Roman amphitheater and was built around 30 AD. It is also the third largest Roman amphitheater in Italy and is often referred to as the main attraction in Verona.
Various opera festivals, concerts and plays take place here every year. Around 22,000 visitors fit into this impressive ancient amphitheater. On the Piazza Brà you will be able to admire the Verona town hall,  Palazzo Barbieri , which is reminiscent of a Roman temple, as well as the numerous beautiful town houses from the 16th to 18th centuries.
Verona as the setting for Romeo & Juliet
Verona is also known as the city ​​of lovers  . And not without reason. Since the Arena of Verona is the starting point for many tourists, most holidaymakers then follow the famous shopping street Via Mazzini to Via Cappello, where you turn right and through an archway you reach the world-famous Juliet's house.
This famous house, called Casa di Giulietta in Italian, is also one of the most important sights in Verona for anyone who wants to admire the alleged location of the tragic love story of Romeo and Juliet. Couples of all ages come here and, in memory of Shakespeare's novel  Romeo and Juliet,  swear eternal loyalty, writing vows of love to post them on the wall. F
or money, you can even have your picture taken while standing on the balcony.
Another highlight is the bronze-colored statue of Julia. Often there is a long line of tourists in front of the famous statue, with which almost every visitor would like to be photographed in order to receive happiness for the rest of their lives .
The bronze statue of Juliet, the famous balcony in the inner courtyard and countless messages of love affixed to the wall – all this makes the setting of Shakespeare's novel so special, even if the main protagonists never really existed and William Shakespeare was actually in Verona during his lifetime.
Places of interest, churches & museums
During a leisurely stroll through the city, the picturesque  Piazza delle Erbe with its ornate historical facades is an absolute must. It was once a significant gathering place as well as a place of economic and political debate.
The Piazza delle Erbe is the central market square of Verona and is a real attraction for locals and visitors due to its impressive monuments. Baroque buildings such as Palazzo Maffei and the 14th-century Torre del Gardello stand on the market square.
In addition, the observation deck of the town hall tower Torre dei Lamberti , from where you have a fascinating view over the whole of Verona, is very popular. Once there, the not far away Piazza dei Signori makes  sense with the impressive government palace and the statue of Dante Alighieri in the center of the square.
In the immediate vicinity of the Piazza dei Signori is the small church of Santa Maria Antica from the 8th century. To the west of this church, a little away from the hustle and bustle and about 25 minutes' walk away, is the famous  Basilica of San Zeno Maggiore . This is a very important Romanesque church that is even considered one of the masterpieces of Romanesque art in Italy.
In addition to the numerous churches and palaces, there is another highlight of the city, the  Ponte Pietra . This bridge is used by many when going from the old town towards the Roman theater. The fortress bridge that runs over the Adige offers you a great view of the river and part of the city when you cross it.
But Verona also has a lot to offer for passionate museum visitors. For example, you can visit the Museo di Castelvecchio , a former castle, and the Museo dei Fossili di Bolca. In the Arena Museo Opera, since 2012, you can learn more about the now more than 100-year history of the famous opera festival in Verona.
Stroll & shop in Verona
If you feel like a little change after all that sightseeing, I recommend strolling along the famous shopping street Via Mazzini . It is located between Piazza Brà and Piazza delle Erbe and awaits you with a variety of Italian boutiques and many other tempting shops.
Here you can not only visit one shop after the other, but also visit one or the other restaurant. Shopping and relaxing and enjoying in between – that's how I would recommend it to you. And even if the shops are often expensive Italian brand stores, there are also some cheap shopping opportunities in Verona.
Culinary Verona
Are you in the mood for delicious Italian cuisine after sightseeing? Of course there are also many restaurants in Verona where you can stop and dine wonderfully. I would like to recommend the following restaurants in Verona:
Gastronomia Vecio Castel : A typical Italian restaurant in the west of Verona. Pizza, pasta and meat dishes are available here for little money. The ratings and the Certificate of Excellence speak for themselves.
Il Punto Rosa : This restaurant scores with a large selection of delicious wines, a cozy atmosphere and regional food based on bruschetta, tiramisu and more.
Formaggi e Salumi Gironda : Here you can buy Italian cheese, ham, salami, wine and other specialties that you can enjoy on the terrace directly on the Adige. The view alone is worth a detour!
Gusto Piadinerie : Piadinas, thin flatbreads filled with various ingredients, are a delicious snack for in between. You can get the best in town in this restaurant. Delicious!
But what would a delicious meal in Italy be without a glass of wine? There are some wine presses in the area around Verona and therefore, as in the whole of Italy, a wine is usually also ordered.
What would a meal in Italy be without delicious wine?
If you want to convince yourself of the culinary delicacies, you will quickly find what you are looking for at the Piazza delle Erbe or directly opposite the Castelvecchio Museum. The latter especially attracts with a small, old-fashioned restaurant that offers many traditional dishes.
Incidentally, it is preferable to meet up in Verona during the day for a glass of wine, but of course there are also various bars and clubs here , which are sometimes a bit outside. In summer, night owls like to meet outside in one of the many beautiful places and go from there to a bar. I think there is something for every taste!
Fancy a city trip to Verona?
Impressive monuments await you both in the heart of Verona and a bit outside. Be it a church, a museum or one of the many beautiful squares – Verona is simply a great Italian city that you should definitely visit! In any case, with my tips you are well prepared for your city trip.
Would you like to pack your suitcase right away? In my booking process you will definitely find the right offer for your trip to Italy.