Dear Guests,

We are currently working on our site to provide in depth descriptions of of Destinations.

We are able to make online reservations and can take your individual requests through our contact form, so if you have a Holiday Booking Request please fill out the Contact Form below.

Currently we offer the following online facilities :

Flight BookingsHotel BookingsCar RentalTaxi Transfer

We look forward to helping you and do not hesitate to contact us if you need our expert help and advice to facilitate your needs.

Rum Doodle

Ski Holidays | Lakes Holidays | City Breaks | Mountain Holidays
La Plagne is recognised as one of the top resorts in France ideal. for all levels with 225km of ski pistes
La Plagne Ski Resort France
La Plagne is one of several mega ski resorts in the Tarentaise valley, France. One of the most popular ski resorts in the world (based on visitor numbers), La Plagne has broad appeal for most lovers of skiing & snowboarding endless on-piste trails.
Linked to Les Arcs by the 'double-decker' Vanoise Express cable car, together they form the gargantuan Paradiski area, adding to its appeal. The multitude of villages from valley to mountain should satisfy everyone's tastes & requirements.
Pros & Cons for La Plagne Ski Resort
Pros
Huge skiable vertical.
Perfect piste trails for beginners & lower intermediates.
Loads of child friendly lifts, terrain & facilities.
Incredible views & landscapes.
Multitudes of ski-in ski-out accommodation options.
Some challenging off-piste terrain.
Majority of ski terrain above 2000m elevation & on a north-aspect.
Tree skiing & high alpine freeride options.
Extensive sheltered skiing & snowboarding available below the tree-line.
Cons
Can be incredibly busy.
Limited challenging on-piste terrain.
Many long, flat piste trails (snowboarders beware!).
Skiing from the lower villages requires five or six convoluted lift connections before getting high enough in the resort.
Expensive accommodation in the upper mountain villages.
Pro or Con (depending on your perspective!)
Numerous villages with no single centre for après, services & restaurants.
Villages vary greatly in style & location. Some of the upper mountain resort villages are quite polarising visually – one may love them, hate them or not care either way as long as the skiing is good!
In 2019, La Plagne was the second most visited ski area in the world, after Ski Arlberg in Austria – St Anton, Lech, Zurs & Warth Schroecken combined!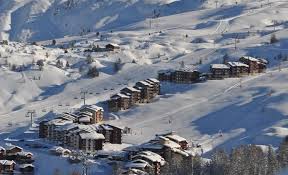 Skiing & Snowboarding Terrain
La Plagne is a ski area of massive proportions. Over 225km of piste trails, 2,250m of skiable vertical, 76 lifts, a longest run of over 10km and wide-ranging off-piste terrain kind of gives one the impression that the link to Les Arcs is more of a publicity stunt than a necessary extension of the ski area.
See the La Plagne Trail Map
The nearly 60% of on-piste trails rated as beginner give a correct impression of skiing at La Plagne. Lots & lots of low angle, long groomers, often heaving with people. The mountain is generally not friendly to snowboarders for this reason.
Even the addition of a disco ski tunnel through the mountain struggled to get our juices going (although admittedly we did a bit of boogie on the way through).
But it is popular for a reason. Ski lifts are efficient, there are loads of villages to visit on skis (which is always fun) & there are a few cracking groomed trails with fun names like Kamikaze.
Another positive in the ski area, something missing from many French ski resorts, is the numerous ski trails below the tree line allowing for safe skiing during storms & low visibility.
La Plagne does have some 'beefy' off-piste freeride terrain too. The alpine bowls & couloirs of Bellecôte & off the side of Roche de Mio are certainly interesting and deserving of a visit in fresh snow & safe avalanche conditions.
An old clunker of a gondola gets you most of the way up to the glacier on Bellecote, adding a nostalgic touch to the ski experience. And don't we all love a bit of nostalgia!
Interlinked with Les Arcs (Paradiski)
La Plagne is also 'interconnected' with neighbouring Les Arcs to form the mega ski resort of Paradaski nearly doubling the ski terrain & lifts available.
The term 'interconnected' is a bit of an illusion though. A double-decker cable car links the two resort areas across the valley, but it is not possible to ski to the other resort. Simply due to the area's size, skiing both resorts to any extent in one day is not really an option either.
If considering skiing Les Arcs & you have already purchased a multi-day lift pass for La Plagne, a €20 (ish) extension/day can be sought to include it.
Given the distances involved & the lack of ski trail interconnection, the more expensive Paradiski lift pass is generally a waste of money on a short-stay snow holiday!
Where is La Plagne France?
Part of the Legendary Tarentaise valley in the French Alps, La Plagne ski resort is perched high above the towns of Aime & Champagny en Vanoise.
By road, the lift base at Champagny is only 19km (25min) east of the closest major town of Moûtiers. The largest resort village at Plagne Centre is 34km (1hr) east of Moutiers via a tortuous 24 hairpin bend road that is 'white knuckle' driving when a steady procession of oncoming buses is heading down the hill!
Gateway airports are Lyon (LYS) & Geneva (GVA) with Paris (CDG) & London in play by virtue of the train connections to Moutiers, Aime & Bourg St Maurice. Both Geneva & Lyon are around 2&frac;hr by road from Plagne Centre via Albertville.
Due to the diversity of villages at La Plagne, we recommend looking at a private transfer either direct to your hotel/lodgings from the airport or from either train station at Moutiers, Bourg st Maurice or Aime.
Private transfers can be incredibly efficient time-wise & cost effective if in a group of 3 or more people.
La Plagne Accommodation
The ski resort of La Plagne is an amalgam of villages spread between 2 valleys & seemingly randomly on the mountain. Choosing where to stay has no simple answer! In the north, the town of Aime is the main entry point to the ski resort by rail & road.
Aime is not lift connected to the ski area. The lower villages (1250m to 1450m) of Montalbert, Montchavin and Les Cauche are all lift connected to La Plagne. Montchavin is one of the few original villages on the mountainside & like Montalbert, maintains a more traditional, low-rise, architectural style than the upper mountain villages which were all conceived in the late 1960s, 70s & early 80s.
Above 1800m on the road from Aime are a nest of 7 alpine villages, each with varying shades of visually challenging architecture! All have ski-in ski-out accommodations with the beautifully integrated lift system.
From the main village at Plagne Centre, there is also Plagne Villages, Plagne 1800, Plagne Soleil, Plagne Bellecote, Belle Plagne, & Plagne Aime 2000 (which is ironically at 2100m!)
Choosing one will depend on your taste & the size of your wallet. In our view, the best of the villages is Belle Plagne.
Its low rise, chalet style design, perfect ski-in ski-out convenience & lifts integrated directly into the village in a prime alpine location put it well ahead of the others.
On the southern side of the resort, the village of Champagny in many ways is the best place to stay when skiing La Plagne.
It holds the sunniest position in the resort and access to the ski area is via its gondola, craftily integrated into the upper village. Champagny overlooks the valley to Courchevel & is convenient to the Pralognan & 3 Valees ski areas.
Unlike the other ski villages at La Plagne, Champagny is best accessed from Moutiers & Bozel, both of which can provide affordable off-mountain lodgings.