Dear Guests,

We are currently working on our site to provide in depth descriptions of of Destinations.

We are able to make online reservations and can take your individual requests through our contact form, so if you have a Holiday Booking Request please fill out the Contact Form below.

Currently we offer the following online facilities :

Flight BookingsHotel BookingsCar RentalTaxi Transfer

We look forward to helping you and do not hesitate to contact us if you need our expert help and advice to facilitate your needs.

Rum Doodle

Ski Holidays | Lakes Holidays | City Breaks | Mountain Holidays
Trysil – The largest and best ski resort in Norway especially good for night skiing and a long season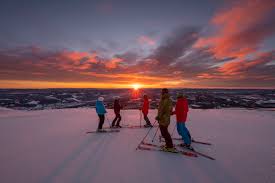 The ski resort Trysil is located in Hedmark, Norway.
For skiing and snowboarding, there are 71km of Slopes available. 31 liftstransport the guests. The winter sports area is situated between the elevations of 415 and 1,100 m.
Trysil is Norway's largest ski resort.
The 1132 m high Trysilfjellt is accessible from three sides with slopes and ski lifts. After your ski day is done, the nice bars and restaurants in the Trysil Turistsenter provide entertainment and a good atmosphere.
Night Skiing is hugely populare and available in Trysil
You can fly into Oslo and travel internally.