Dear Guests,

We are currently working on our site to provide in depth descriptions of of Destinations.

We are able to make online reservations and can take your individual requests through our contact form, so if you have a Holiday Booking Request please fill out the Contact Form below.

Currently we offer the following online facilities :

Flight BookingsHotel BookingsCar RentalTaxi Transfer

We look forward to helping you and do not hesitate to contact us if you need our expert help and advice to facilitate your needs.

Rum Doodle

Ski Holidays | Lakes Holidays | City Breaks | Mountain Holidays
Maria Worth – Stunning location with Idyllic Church right on the Banks of Worthersee – Ideal Wedding Venue – 1 of the most beautiful Golf Locations in Europe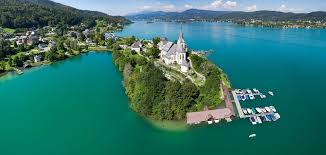 46.61510178053, 14.160741521125
46.61510178053, 14.160741521125
Maria Worth –

Health, wellness and cure.
Romantic idyll in Maria Wörth
The romance in Maria Wörth with its little church known far beyond the borders of Carinthia as a wedding church, the rural idyll in the rural  Sekirn , the active and sporty in  Reifnitz  and finally the health and fitness care in  Dellach .
Here you can still experience nature in its most beautiful purity, the water of the Wörthersee is clear and pure, forests and meadows are evidence of an intact environment.
Those who like to exercise will find almost all sports facilities next to, in or on the water and enjoy a wonderful view from one of the most beautiful golf courses in Europe. Golf, Mountain Biking, Sailing, Sunbathing and Hiking are all hugely popular in this area.
Gustav Mahler and Alban Berg found peace and inspiration in the idyll of Maria Wörth. The world-famous  Vienna Boys' Choir also  spend their summer days here.
The (TV) "Doctor from Wörthersee" is also at home here and was filmed here.
Located in close proximity to Klagenfurt and accessible from Salzburg, Ljubljana and Vienna