Dear Guests,

We are currently working on our site to provide in depth descriptions of of Destinations.

We are able to make online reservations and can take your individual requests through our contact form, so if you have a Holiday Booking Request please fill out the Contact Form below.

Currently we offer the following online facilities :

Flight BookingsHotel BookingsCar RentalTaxi Transfer

We look forward to helping you and do not hesitate to contact us if you need our expert help and advice to facilitate your needs.

Rum Doodle

Ski Holidays | Lakes Holidays | City Breaks | Mountain Holidays
Lech – Premier Resort Part of the Arlberg Range – Recommended for Skiers and High End Fun – No 1 in Austria for Groomed Pistes
47.206059872683, 10.143252172086
47.206059872683, 10.143252172086
The Arlberg combines tradition and innovation.
Here lies the cradle of alpine skiing – but at the same time the winter sports offer is always up to date, if not a shade ahead. "Ski Arlberg" welcomes ski and snowboard enthusiasts as Austria's largest connected ski area and the fifth largest in the world.
Bright sun, blue sky. Perfectly groomed slopes and white mountains in the background. A quick look up: The slope is free – and so is you.
Lech Zürs is not only part of Austria 's largest connected ski area and one of the most extensive ski areas in the world, it is also extremely diverse and therefore equally popular with families , freeriders and ski tourers. Here you can find the right slope for almost every need. Anyone who has ever experienced Lech Zürs will be happy to return again and again.
The Arlberg comprises 305 kilometers of ski slopes, making it the largest contiguous ski area in Austria and the fifth largest in the world.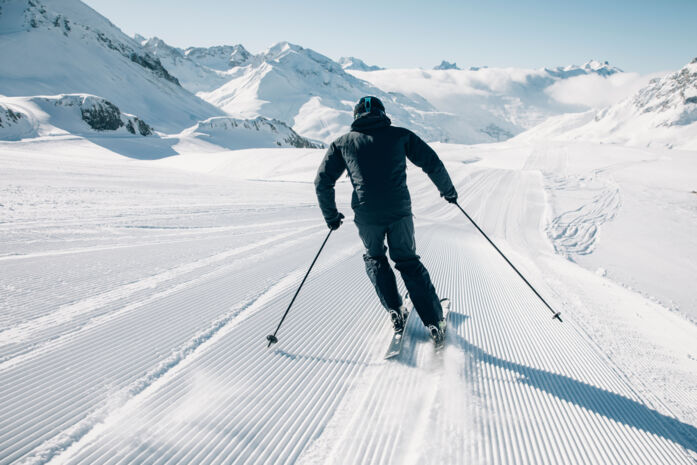 Quality time in every respect – Lech Zürs meeting point for generations
Lech Zürs stands for quality over quantity, for spaciousness and space. Not least because of this, it is very popular with families.
Many of our regular guests have known Lech Zürs from an early age, as they have already spent their winter holidays here with their parents and learned to ski on the Arlberg.
They are regarded as loyal guests who regularly come to Lech Zürs – meanwhile with their own children in their luggage and their grandparents as a particularly popular ski companion for the little ones.
Such is the family vacationon the Arlberg has meanwhile advanced to become a large family get-together for many of our regular guests, where the generations come together at least once a year.
The family hotels in Lech Zürs have specialized in exactly this and contribute to the success of these major family events.
With a ski pass for unlimited skiing pleasure
As the largest contiguous ski area in Austria, winter sports fans can enjoy a total of 305 kilometers of ski runs on the Arlberg with the connecting lift that opened in winter 2016/17.
305
Kilometers of downhill skiing
Is that a lot? Yes, because there are hardly any areas in the world with more kilometers of ski slopes, making Lech Zürs one of the largest ski areas in the world.
200
Kilometers of deep snow runs
Freeriding and powder until the sun goes down.
88
ultra-modern lifts and cable cars
Comfortably and quickly to all peaks in the ski area. Less waiting time, more downhill experiences.
This clearly satisfies the sporting aspect of skiing. And physical well-being is also taken care of in our numerous ski huts and Alps. The free local and ski buses are also available as a convenient means of transport from early in the morning until late at night. You can safely leave your car in Lech Zürs.
Guaranteed snow and fun on the slopes on the Arlberg
Ever since Austria's first T-bar lift brought a certain level of comfort to Lech Zürs, the Arlberg, the cradle of alpine skiing, has drawn skiers and snowboarders from near and far under its spell, winter after winter. Skiarlberg is one of the most snow-sure ski areas in the Alps, and between November and April you can indulge in alpine skiing without a care .
The cradle of alpine skiing
Off-piste action in Lech Zürs – ideally with a real local guide
In addition to the perfectly groomed slopes for sporty, ambitious carvers, leisure skiers and families, ski tourers, deep snow skiers, freeriders and freeskiers have 200 km of high alpine deep snow runs available. With appropriate safety equipment – consisting of
helmet
Avalanche shovel
Avalanche search device (LVS)
Avalanche probe
First aid kit
Bivouac sack
– Nothing stands in the way of the deep snow adventure. Nevertheless, we recommend that you only ski in the off-piste area with experienced ski guides. As proven experts, they will show you the best routes and slopes, depending on the weather and snow conditions. In addition to ski courses, the ski schools also offer ski guides who will familiarise you with the area safely and carefully. Skiing with real local guides is an experience that you will not forget!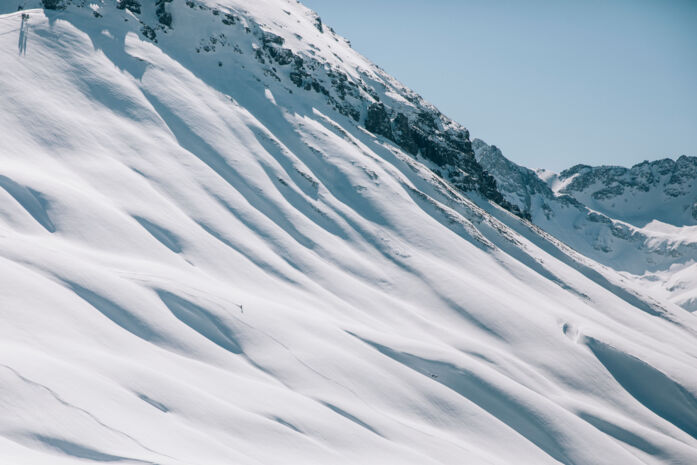 St. Anton am Arlberg can be easily reached by car, bus and train. Drivers can get to St. Anton am Arlberg from Bludenz or Landeck via the Arlberg expressway (S16). After Lech, you continue via Stuben and Zürs. In winter it is not possible to drive from Warth to Lech! So the Warth-Schröcken ski area can only be reached via the north, Lech only via the south.
The Austrian railway (ÖBB) runs from all major cities to St. Anton am Arlberg. There are several direct connections daily from Vienna and Zurich. The trains also serve Zurich and Innbruck airports. Railjets, the high-speed trains operated by ÖBB, also stop in St. Anton am Arlberg. The nearest airports are Innsbruck (approx. 95 km), Friedrichshafen (approx. 130 km), Zurich (200 km) and Munich (approx. 230 km).