Dear Guests,

We are currently working on our site to provide in depth descriptions of of Destinations.

We are able to make online reservations and can take your individual requests through our contact form, so if you have a Holiday Booking Request please fill out the Contact Form below.

Currently we offer the following online facilities :

Flight BookingsHotel BookingsCar RentalTaxi Transfer

We look forward to helping you and do not hesitate to contact us if you need our expert help and advice to facilitate your needs.

Rum Doodle

Ski Holidays | Lakes Holidays | City Breaks | Mountain Holidays
Cerklje – Somehow a 2nd Thought in Slovenia, but a delightful resort in both Summer and Winter ideal for a multi centre holiday
46.253220928092, 14.486956838889
46.253220928092, 14.486956838889
Cerklje na Gorenjskem
The Slovenian municipality of Cerklje na Gorenjskem is idyllically situated at 391 m above sea level at the foot of the Steiner Alps (Kamnik-Savinja Alps), but only 4 km from Brnik International Airport. This means that the place called "Zirklach in der Oberkrain" in German offers ideal connections and even enables a short vacation to the Slovenian Alps.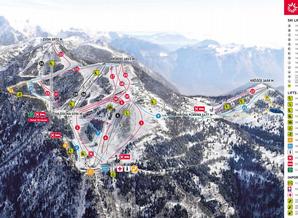 Cerklje na Gorenjskem attracts vacationers not only because of the easy and short journey, but also because of the extensive, nearby leisure activities: First of all, the Krvavec ski area is to be mentioned, which is located in the immediate vicinity of the village and offers 30 kilometers of slopes. In addition, the Slovenian capital Ljubljana is only a half-hour drive away and is ideal for a day trip with its many historical and charming sights.
But you don't have to look long for buildings steeped in history in the village itself: Among other things, Strmol Castle is here, one of the oldest castles in Slovenia, which is exceptionally well preserved. Otherwise, the landscape around Cerklje na Gorenjskem is absolutely worth seeing, as about half of the municipality consists of forests, fields and rivers – not to forget the snow-capped Alps in the background, of course!
Obersavetal
The Slovenian Obersavetal is located in the far northwest of the country and therefore close to the border triangle with Italy and Austria. To the north you can expect wonderful views over the Karawanken, to the south you look to the Julian Alps.
The winters are cold in the Obersavetal, so nothing stands in the way of winter sports in the Slovenian Alps. Nevertheless, the slopes on the Karanwank side enjoy an excellent sunny position, which enables skiing in great snow and sunshine at the same time.
Winter vacationers in the Obersave Valley appreciate the Gorenjska (Upper Carniola) ski region, which comprises a total of 18 communities and 17 large to small ski areas. Krvavec is the largest ski area with 30 kilometers of pistes, followed by Kobla (23 kilometers of pistes), Vogel (22 kilometers of pistes) and Kranjska Gora (20 kilometers of pistes). The other 13 ski areas are also manageable, making them ideal for families and beginners in particular.
Even if it is very idyllic and quiet in the Obersavetal, you can still expect larger, pulsating cities as excursion destinations. A visit to the city of Kranj, for example, with its around 200,000 inhabitants is always worth a visit. Not to be forgotten is Slovenia's dream capital Ljubljana!
Arrival Cerklje na Gorenjskem
Train: Ljubljana (approx. 30 km)
Flight: Ljubljana (approx. 5 km), Klagenfurt (approx. 70 km), Zagreb (approx. 180 km)